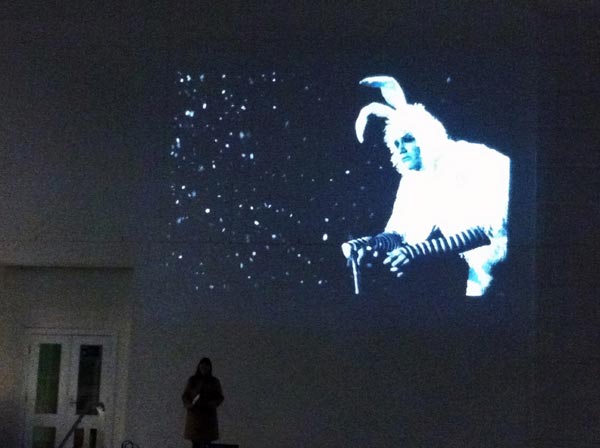 Above: Vanessa Low
My two friends and work buddies, Heidi Dokulil and Beatrice Chew, are the producers for Pecha Kucha Night in Sydney. Pecha Kucha is the 20 seconds-per-image talk series that was born in Tokyo at SuperDeluxe—the Roppongi bar and venue that is 'open most nights for thinking and drinking'.
The wall at one end of UNSW's courtyard was a particularly good surface for the pictures. The theme for Pecha Kucha Night 25 was Collecting.
Only some of the speakers are represented here in images; next time I will take a decent camera!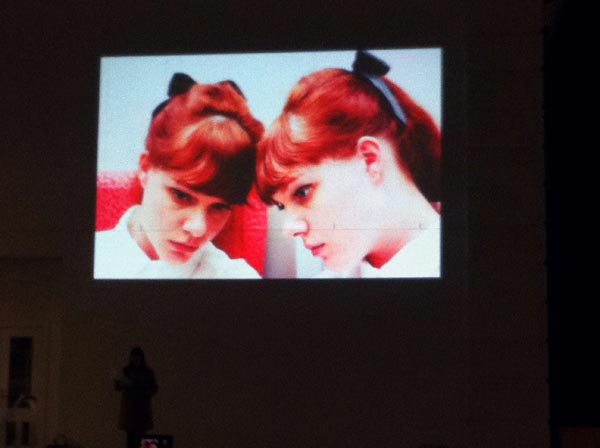 Above: Vanessa Low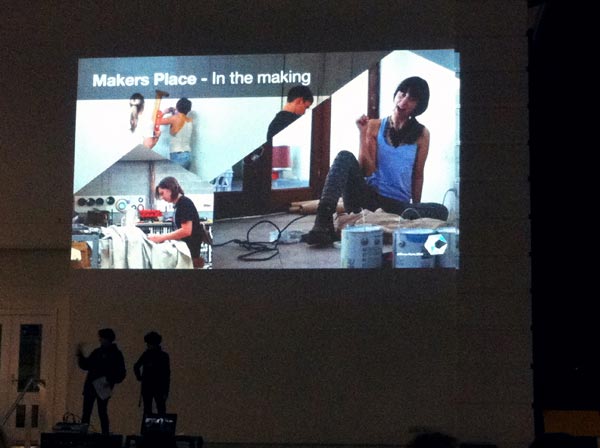 Above: Grace Turtle & Melissa Fuller, Three Farm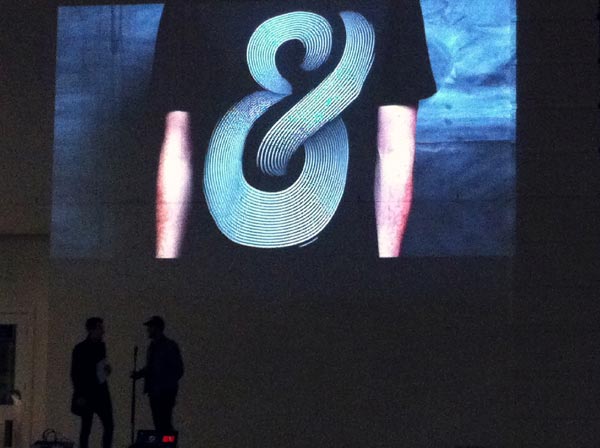 Above: Nick Rudenno & Miguel Sicari, Nowhere Famous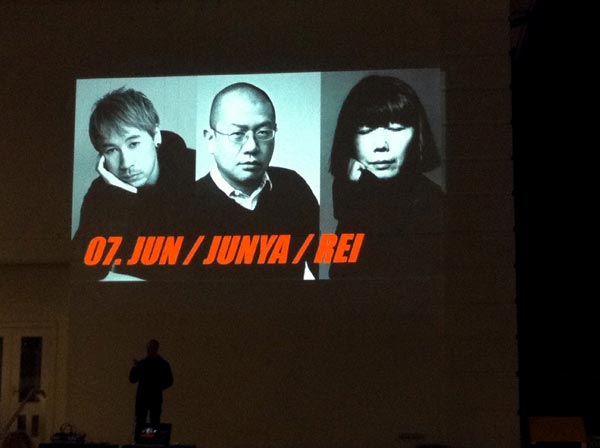 Above: Clinton Bradley
Speakers
Grace Turtle & Melissa Fuller, Three Farm
Describing herself as a Social Design Strategist, Grace believes that the role of designer has shifted to facilitator, therefore to be an effective designer you need to teach and provide the community with tools to learn. Grace is a graduate of COFA and the co-founder of Three Farm, a social design enterprise specialising in new manufacturing technology and processes that enhance social learning, design and sustainable practice. Melissa describes herself as the "maker of makers" and is a passionate advocate of social equality.
Nick Rudenno & Miguel Sicari, Nowhere Famous
Nowhere Famous tells stories through design, art direction, typography, illustration,vcreative direction & web with collective collaboration at the core of everything they do.
Vanessa Low
Vanessa Low is a UNSW Art & Design alumna, having finished her bachelor of Art Theory here last year. She is now a freelance arts writer, photographer and blogger who has contributed to Elle, Popsugar and Art & Australia. Her penchant for collecting is derived from her fear of forgetting and love of asking questions, documented on her blog The Monday Issue over the past 6 years.
Sacha Pantschenko
Sacha Pantschenko is a product designer living in Sydney. Working across many disciplines in the industry over the last 10 years, he is always looking to new and engaging ways to innovate and rethink how things work. Sacha has recently headed up one of the largest product design crowdfunding campaigns in Australia. He is easily distracted good burgers and craft beers.
Judith Torzillo and Victoria Cleland, Young Collectors
The Young Collectors are Judith Torzillo and Victoria Cleland. Emerging contemporary jewellers and collectors, Judith's jewellery is focused on viewer engagement and exploring the physicalities of wearing and seeing. Victoria's jewellery practice investigates notions of value, image and wealth. Together they host events that connect artists and collectors.
Clinton Bradley
Clinton Bradley likes art and dumplings. He collects art by a small group of artists that often feature animals [often in the most opaque of ways] and eats dumplings wherever he can find them. Clinton has collected from as far back as he can remember and counts house plants, crystals, Japanese scrubbing brushes, finger-nail clippings and taxidermy among the many things that have caught his attention over the years.
Text on speakers by Heidi Dokulil, Good Habitat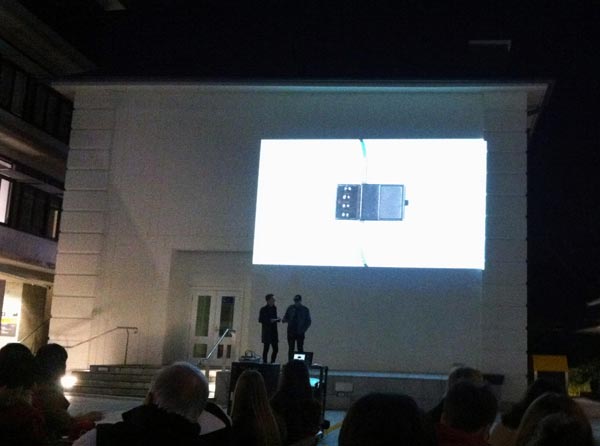 The wall.