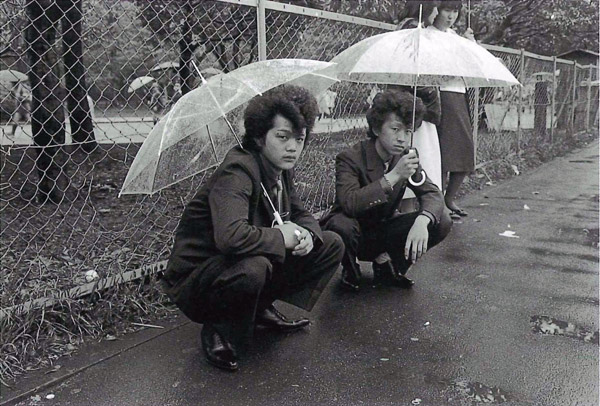 Gazing at the Contemporary World:
Japanese Photography from the 1970s to the Present
In my head, I have this observation about what it is poets do (distil amazing sense from ordinary meanings) from Emily Dickinson.
Incongruous as it may seem to use a job description for poets written by a decorous 19th century American to begin a review on contemporary Japanese photography—it's one of the pieces of language that comes to mind as I look at these photographs; and it does connect (for me) to another quote, from photographer Nobuyushi Araki, on one of the first object labels in the exhibition: about capturing an energy that exists in ordinariness.
Can you guess what the cop said to me that time? It was a classic: "Why are you taking pictures when there's nothing special happening?" For him, a photograph was something you took when something special was going on. He thought a photo had to be of something out of the ordinary, so he couldn't see why anyone would take a picture if there wasn't anything happening. Why photograph the totally ordinary everyday stuff when nothing's actually happening out there? He put his finger right on what I was doing, or what I wanted to do.
A 60s-style bus, out there somewhere in a soft, dark, enveloping landscape in a picture titled Kariudo (Hunter, 1972); a stylish looking, hands-in-pockets butoh performer (2001); the sweat-crinkled back of a summer dress from the Subway Love series (1962–73); vaguely recognisable city skylines less built than ones now well-known, and four girls presumably out for the night, crouched on a Shinjuku pavement in 1981. Those early 80s hairstyles, the shoes, the makeup, all create an initial moment for me, of 'where was I when this happened?' that quickly converts to 'where are they now?'—indicating the beginnings of a slow and poignant contemplation of the absence of things, often things commonplace, that is sometimes labelled ubi sunt. A 'where are' experience.
Some exhibitions of photography seduce and pull you in, but the most transforming also push back, making you fall back more on your own ways of dealing with the image. My own reaction to these photographs, and why they appeal—or should I say affect me—is that so many of them are suffused with this beautiful, quiet, introspective sense of the loss of everyday things, particularly in those nothing-special, non-happenings that are mostly thought of as ordinary.
GS February 2010
Gazing at the Contemporary World: Japanese Photography from the 1970s to the Present was an exhibition at the Japan Foundation, Sydney, February/March 2010. It was curated by Rei Masuda, Curator of Photography, The National Museum of Modern Art, Tokyo.
Photography reproduced by kind permission of the Japan Foundation
George Hashiguchi, Rainy Sunday from the series The Look, 1981