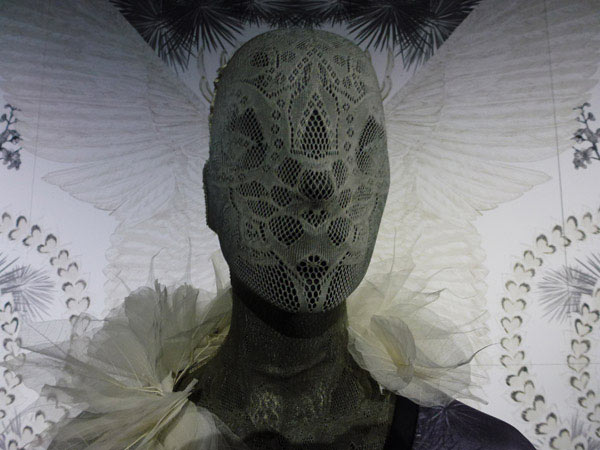 White Phoenix by Tamae Hirokawa, Ito Jakuchu Inspired Exhibition, Tokyo Designers Week.
Tokyo Designers Week and Design Tide
Design Tide, 2012
Tokyo Midtown Hall
Akasaka, Minato-ku, Tokyo
31 October – 4 November 2012
Tokyo Designers Week, 2012
Meiji Jingu Gaien, Aoyama, Tokyo
30 October – 5 November 2012
Every year, starting late October, there are two events in Tokyo for (mainly product) designers to show their work. There are many overlaps between Design Tide and Tokyo Designers Week. The time and place overlaps. Design Tide happens at roughly the same time as Tokyo Designers Week, and the distance between them is walkable if you're feeling energetic, or just a few stops on the Metro, so it's easy to do the two. Their aims overlap (promotional, trade and developing design careers), as does their audience demographic (designers, producers, entrepreneurs, design students). All this means that comparisons are inevitable; if not from the general design media—which is frequently more reportorial or overtly promotional than reflective or critical—but at least within the minds of the people who visit or participate in both.
Tokyo Designers Week is bigger and more wide ranging than Design Tide. It covers more (emerging and established designers, artists, students, manufacturers, suppliers, conceptually serious works and the crazily kawaii, young producers, experienced makers, aggressive promoters of interesting new technologies and silly gadgets, and the creatively mobile), and perhaps for this reason, it comes across as an unwieldy, confusing grab bag of events and approaches.
This has not been such a bad thing in previous years, when an abundance and diversity of exhibitors, and probably, more money for production and travel, not just in Japan but Europe, North America, Australia and the rest of Asia meant that along with the predictable and the perfunctory there were some gems. This year there was much less work from young designers from foreign places and it removed from the mix that nice quality of surprise —originating from different places around the world—that made TDW attractive. What happened to those small design groups from the UK? Established & Sons and Timorous Beasties (TDW 2008) — or their 2012 equivalents? Where were the Dutch? In past years TDW promised, to those from afar, an interesting mix of quiet brilliance, love-to-hate hubris, humour, remarkable ideas and the charmingly kooky that made paying the airfare and hotel bill worthwhile.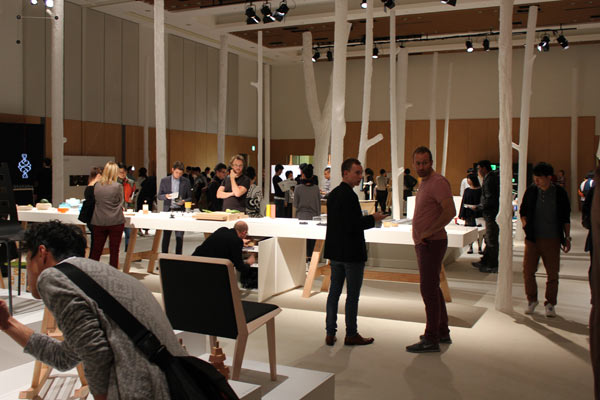 Design Tide is more compact, more organised and structured, more carefully edited and selective. It concentrates almost exclusively on emerging or 'undiscovered' designers and there appears to be an effort made during selection to choose works that are conceptually grounded. Also grounded conceptually is the interior design of the venue each year. In 2012 Makoto Orisaki's beautiful forest of bubble wrap trees gave the hall a delicate, otherworldly magic that softly complemented the work on the long timber tables and plinths and visually tied the whole show together.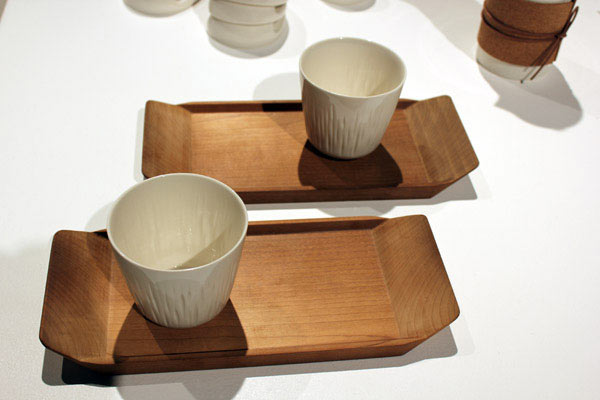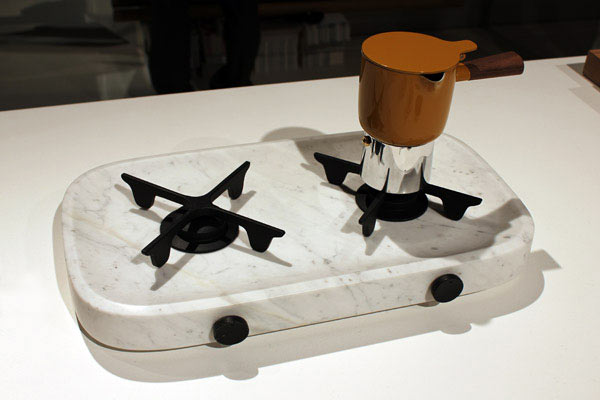 Two of these tables held work that I was personally attracted to for two different reasons. One because of the sheer group effort of 8 Norwegian designers (Foodwork) and the well-crafted, formal cohesiveness of their objects,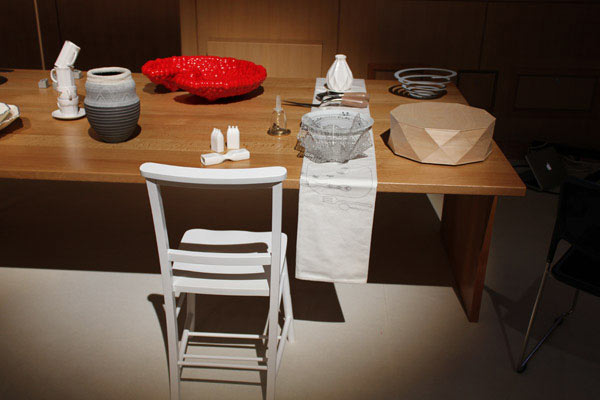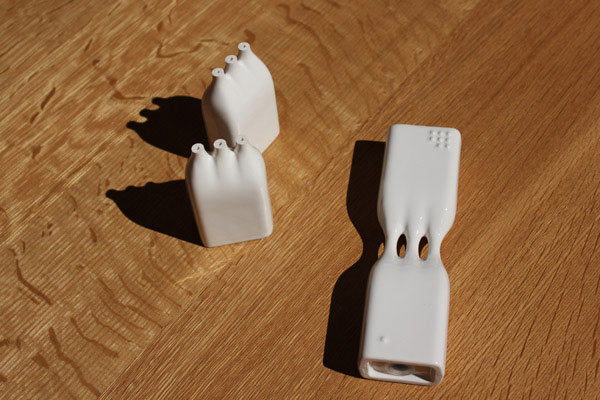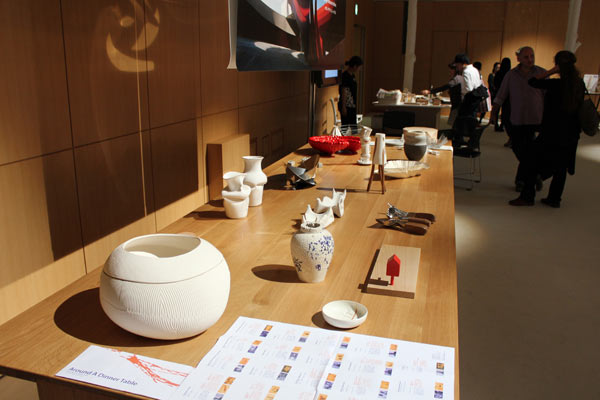 the other through the depth of its exploration of the traditional Jewish Friday meal—cohesive in theme only and widely, enjoyably disparate in the way each designer addressed it as a solo project. The latter, called Around a dinner table, was by a group of Israeli designers and artists and curated by Design Museum Holon.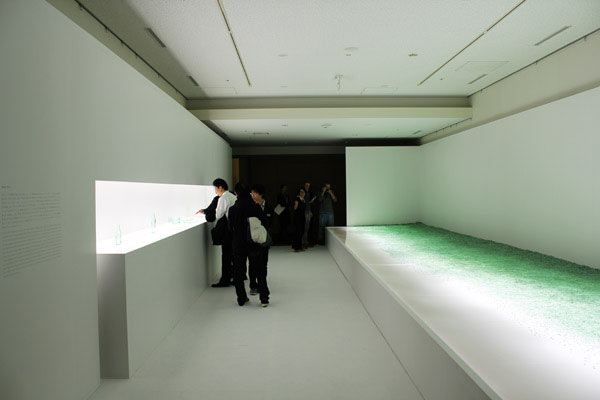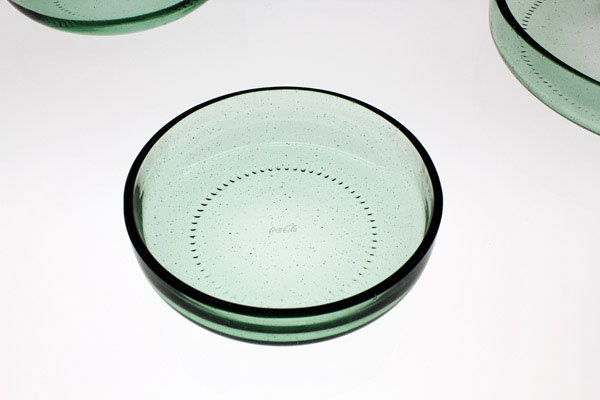 By far the two longest long tables were curiously occupied by one of the world's corporate giants. In a large, dedicated space the Coca-Cola Company presented Bottleware. Two starkly lit white benches on either side of a long corridor showed a before/after production exercise. On one side: a mass of granulated Coke bottles. On the other: a sort of abbreviated evolutionary sequence, starting with the Coke bottle and ending in a range of Coke-bottle-green bowls ranging from small (Dip Dish ¥5,250) to large (Bowl L ¥14,700). Even if the bottles used are downgraded, as the Coke-branded Bottleware site suggests, it's still a flimsy story on recycling or even up-cycling. Although the product and the exhibition display was designed by Nendo, the product, the site, the exhibition and the support material were all branded Coca-Cola. Coca-Cola is a Design Tide sponsor, so you have to wonder, what percentage of Bottleware is a design exhibition and what percentage is a Coca-Cola campaign?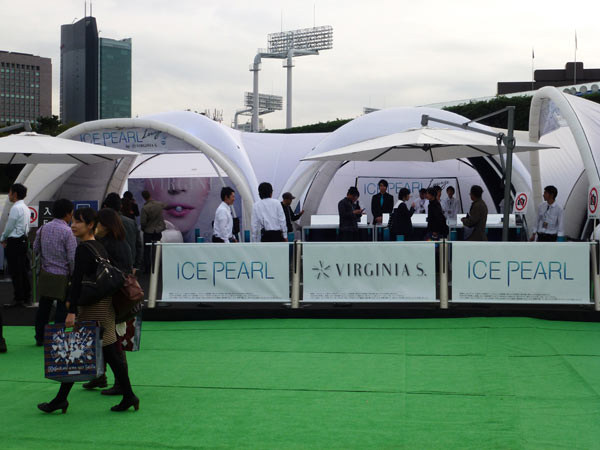 At least Tokyo Designers Week was brazenly upfront with its corporate and trade show elements. The fluff and dubious promotions (Ice Pearl: a smoking area heavily promoting a new cigarette product by Virginia S, Phillip Morris) were easy to identify and therefore easy to avoid, on the search for more relevant exhibits. There were some good bits but disappointingly, not enough of them came from that core of designers whos careers and ideas were most in need of exposure.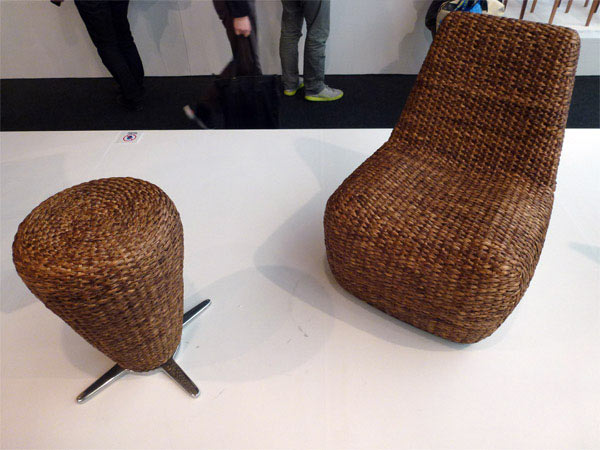 In the professional section, the well known furniture and product designer, Toshiyuki Kita, had a chair and stool made from woven water hyacinth fibres and produced in collaboration with a Thai manufacturer.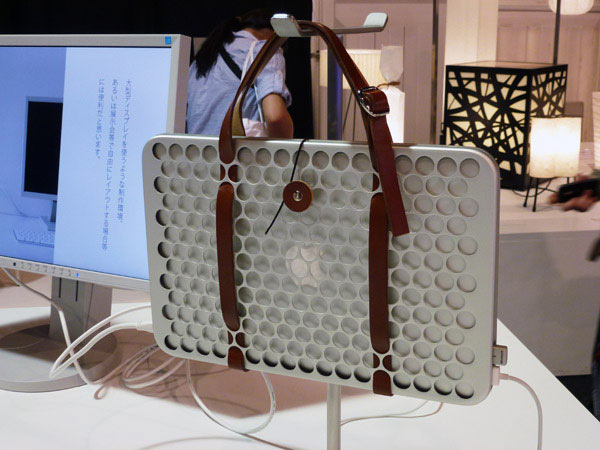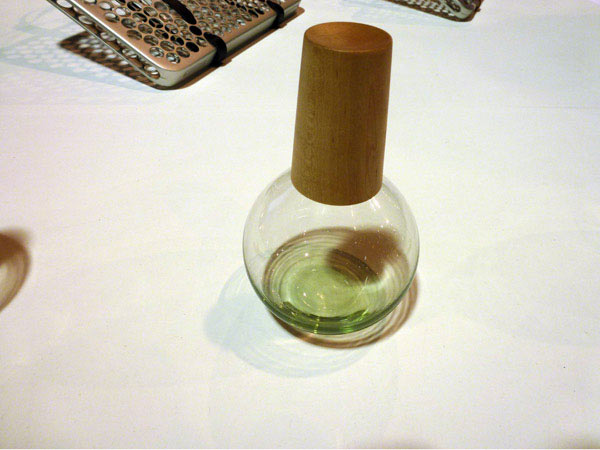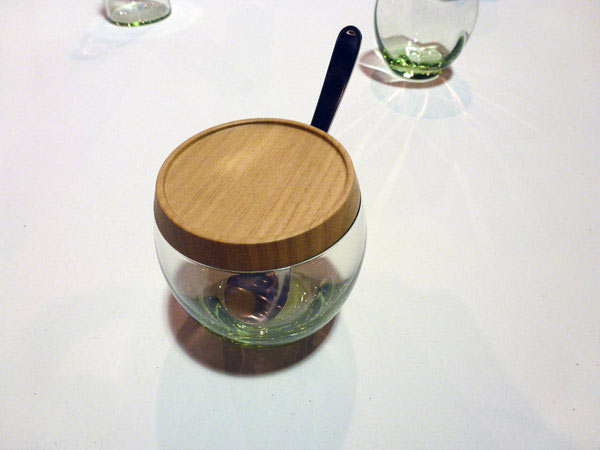 Hikaru Yamaguchi from Yamaguchi Prefectural University, presented a leather and aluminium laptop bag and Hagi Glass, a range of timber and handblown glass vessels. Even if you didn't like the look of these objects (I did), the craft in them was exceptional and the finishes perfect.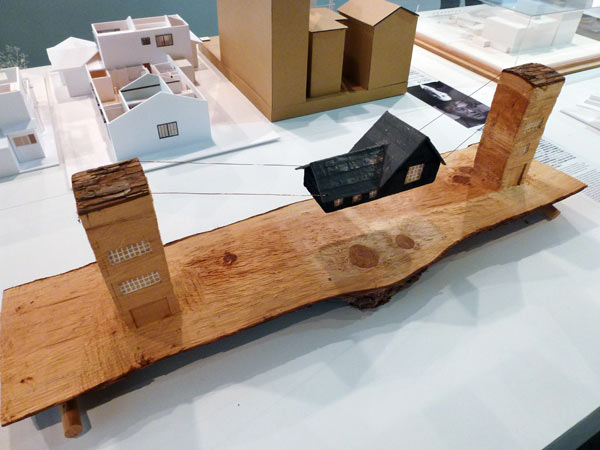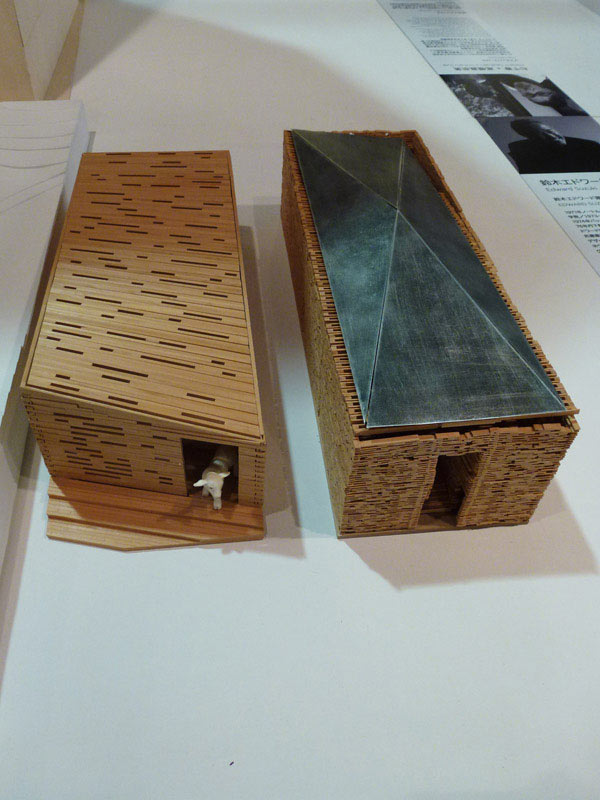 Alongside the professional section was an exhibition of models by 50 prominent Japanese architects which was extensive enough and fascinating enough to realistically be a reason in itself for visiting the TDW site.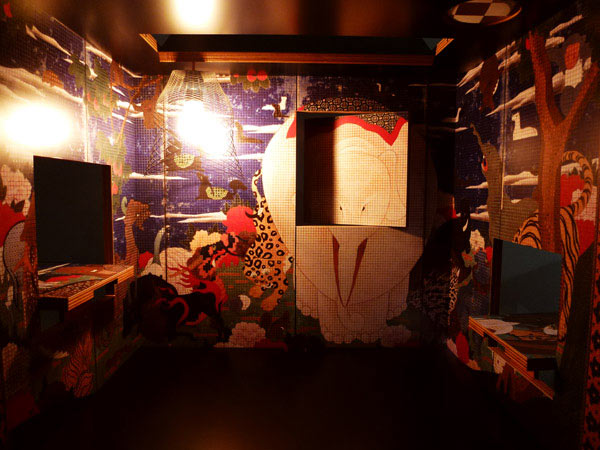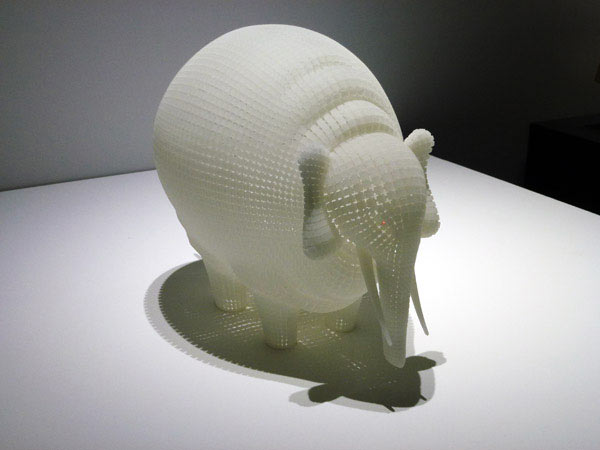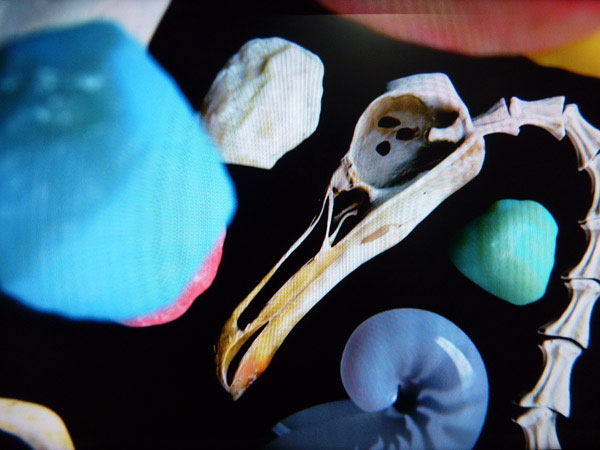 One of the the most engaging sections was an exhibition of works by designers and artists inspired by the Edo-period painter of birds, animals and flowers, Ito Jakuchu. Ito Jakuchu Inspired was in a black-walled area at one end of the central hall, and I was not the only visitor spending a lot of time there, not just because of the visual richness of the work, but I suspect also because of the relief the enveloping darkness of the space provided, from the brightly lit, trade show aesthetic of the main venue. Something else was present in the darkness too: the delightful, liberating spirit of the work. A wide range of techniques and media including sculpture, graphics, installation, animation, film, publishing and fashion— much of it the result of exquisite and seductive combinations of craft and technology—reminded me more than anything else at TDW of the many things I like, as a designer, about Japan.
Overall, however, Tokyo Designers Week and Design Tide in 2012 did not feel as rich or as broad and deep as I would have liked it to be. Not in the conceptual strength of much of the work, or in the number of (genuine) exhibitors, or in the number of people attending. The latter impression may have only been because I visited each event on its first day.
Someone more informed than me — on the connections between the current state of the world and the activity of designing may have already worked it out: why both events were thinner than previous years (my last visit was back in 2008). Japan, and the world, have had plenty of other things to be focussed on in the last few years and some people have forwarded this as a reason. I disagree. The people and the talent, the ideas and the output, are still going strong. What isn't are these design-related trade events.
Around the time I was drafting the two preceding paragraphs and worrying about their negativity, I caved in to the inevitable and checked the web to see what others were saying. Maybe it was just me. Maybe I was mistaken. And reading through the online reports on both events you would have to think so because while there is no shortage of upbeat reportage, listings of things cool and everything-is-wonderful promotional spin, there was hardly any level of reflection, let alone useful criticism, and in this, there is also much to worry about: this unreal disparity between what is published about design events in the form of reporting and promoting, and what is thought, but rarely published, in the form of contemplation and criticism.
Few people seem to want to take a position and are apparently ok about allowing upbeat spin to fill media spaces that could also be used for conveying thoughts and ideas and even a bit of mind-honing negativity. Design needs downbeat.
x
A downbeat design quote
'Mainstream commercial design now is treated as the idiot child of the branding industry.'
Deyan Sudjic
The Language of Things, Penguin, 2009
x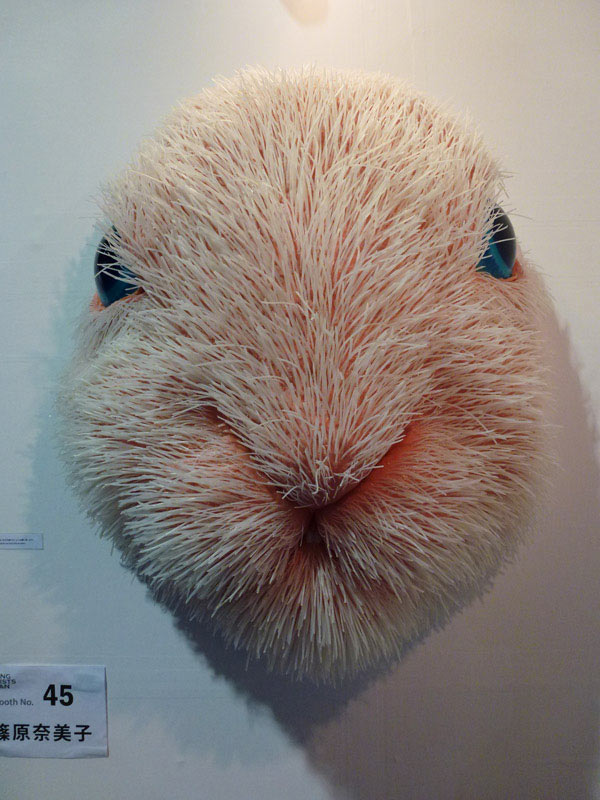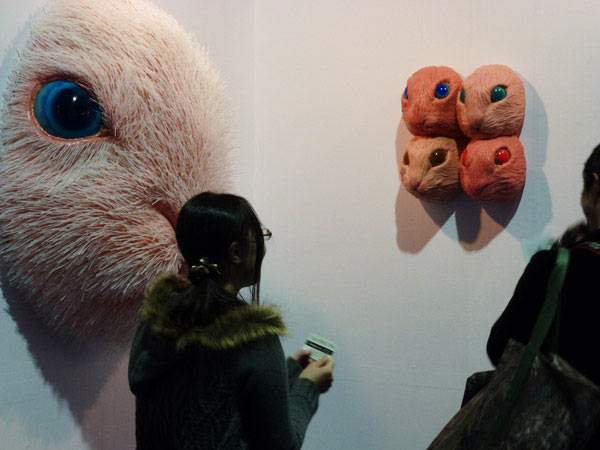 Namiko Shinohara's rabbits, TDW Young Artists Japan Exhibition. Upbeat kawaii meets slightly spooky downbeat.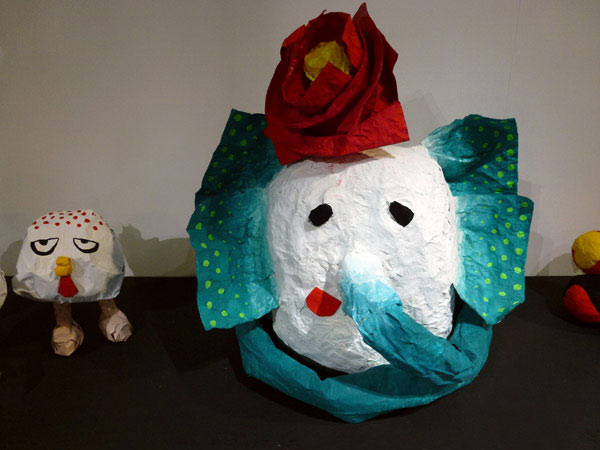 Natsuko Kogure's delightfully titled Monkey octopus Nudibranch elephant, Ito Jakucho Inspired Exhibition, TDW.