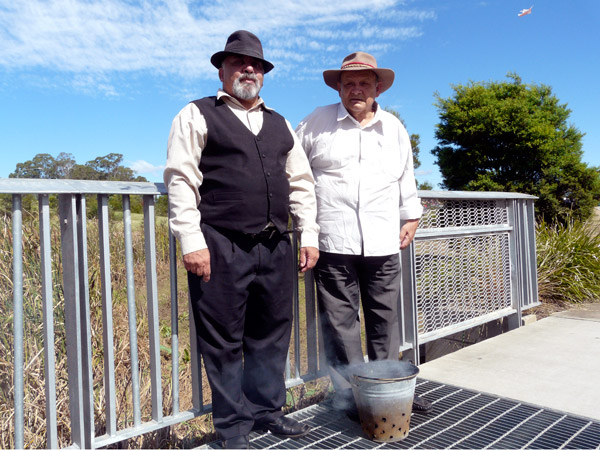 In April I met two Aboriginal Elders who had just performed a smoking ritual as part of Lao New Year celebrations at a Buddhist temple in Edensor Park, Sydney. When the speeches were over they walked slowly through the park at the back of the temple with a big, fragrant clutch of eucalyptus leaves smouldering away in a perforated metal bucket.
Lao New Year (my first experience of it) appears to be a happy time; the reverence is clearly there but it's colourful, crowded, family-orientated, and tolerant (someone had managed to give the littlest kids balloons with the Uniting Church logo on them but no-one seemed to mind)—and with non-stop music and a high volume public address system going full pelt with announcements…it's loud.
What struck me then, was how the two elders—Uncle Greg and Uncle Wes—just quietly got on with it. I don't think anyone else noticed them as they slipped away from the reception tent and walked along the path towards the bridge, cleansing the park with smoke along the way.
The bridge they're standing on is over Clear Paddock Creek. I haven't researched the name but I can guess how it happened and I wonder what the creek was called a few hundred years ago, before the bush was taken away to turn it into pasture. As obvious as it is, it always intrigues me that names are echos of things that went before. Clear Paddock Creek runs into Orphan School Creek which becomes Prospect Creek then the Georges River and Botany Bay.
At the end of their walk Greg and Wes stopped at the bridge for ten or so minutes, allowing the smoke to drift through the steel mesh, and talked about the polluted appearance of the stream. Bits of plastic and food wrappers had snagged in the flattened reeds and  the sluggish creek had that dull-grey, soapy bathwater look that indicates nothing much in it is likely to be alive*. Uncle Greg said, "You could drink that water once." Uncle Greg is the one in the vest.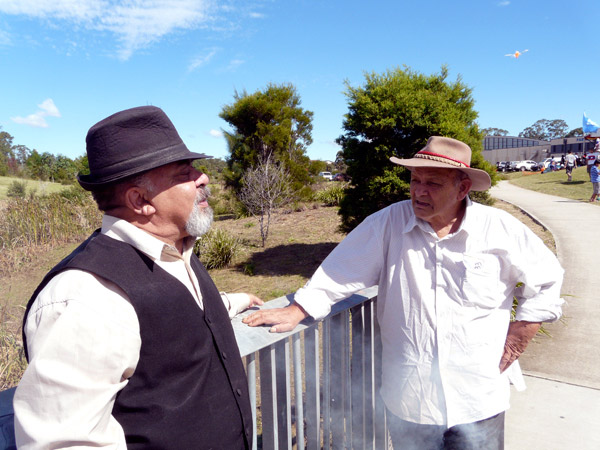 *
Fairfield City Council has a project called Restoring the Waters. Sections of Clear Paddock Creek and the land it runs through have been turned from concrete drains in bleak settings back into a more natural form. The Restoring the Waters site says, "The Project has developed an urban landscape of bio-diversity with clean, clear waters to be enjoyed by all." Looking at this, and their Creek Care Program it's easy to see that they have completed an enormous list of works.